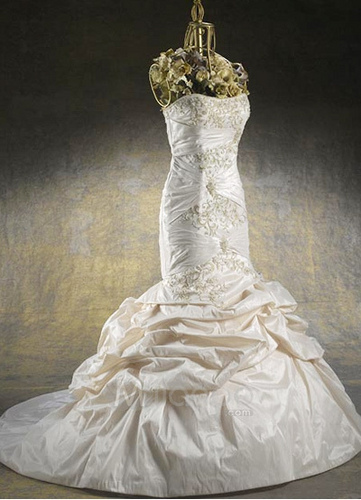 Weddings usually are composed of a special theme or constant color throughout. Are you looking for plus-size wedding dress? Then Say Yes is the place for you. They have tons of new fashion styles.

It is common for the bride and groom to choose specific colors and match the bridesmaids dresses, and groomsmen's ties with the chosen color.
Flowers and table cloth decorations usually follow the chosen color as well.
In other words, color is a pretty big deal when it comes to planning a wedding, and it can sometimes be a hard decision.
There is no color that is not allowed, I've seen weddings in blue, red, lavender, even orange.
In order to decide on a color, a bride and a groom should sit down and have a discussion.
Even though it may be the bride that is in charge of planning most of the wedding, the groom should be involved as much as possible, and this is one of the cases where the groom can help make a decision.
Perhaps it would be a good idea to decide on a color that matches with the current season.
In other words, if you are having a summer time wedding, common colors for summer are the bright ones. You can pick bright green, yellow, orange, even hot pink!
Spring colors are more of a pastel and softer tone (think Easter colors) like light purple, sweet pink, yellow, and even a light green. For more ideas on pairing colors with seasons, I suggest you visit Say Yes Wedding Dresses Inc, to learn more about what is the right color for YOUR wedding.
Fall/Autumn goes along also with winter,and here is where you would choose warmer colors (darker tones) such as browns, gold, dark blue, and even red/green to go along with the holiday season.
Whatever your choice, just remember to make it a decision between both bride and groom, so that both parties can enjoy the wedding!